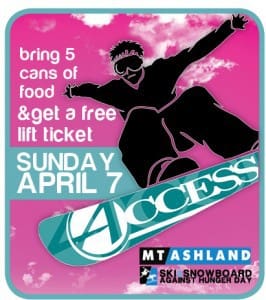 Grab your snowboard or skis, five cans of food, and head to Mt. Ashland on Sunday, April 7, for a full day of free skiing or snowboarding. It's Mt. Ashland's annual "Ski & Snowboard Against Hunger" food drive, and all food donated goes to the ACCESS Food Share Pantry Network to feed the growing number of hungry people in Jackson County.
"Going skiing or snowboarding for free is the perfect way for students to end their spring breaks, or families to wrap up the weekend with that last trip to the snow," said Philip Yates, ACCESS Nutrition Programs Director. "ACCESS appreciates Mt. Ashland's genuine concern for our community by offering free tickets. This food drive has become a great partnership for us, and a significant event for donated food."
To receive a free lift ticket for the day, April 7, bring food to the ACCESS service truck parked in the Mt. Ashland parking lot near the lodge. Foods rich in protein are needed, including peanut butter, canned tuna, canned meat, canned vegetables, fruits, and beans. However, donations of any non-perishable food items such as rice, pasta, cold and hot cereals, soup, chili, stew, macaroni and cheese, flour, and oats are always a big help.
Donations will help with the growing issue of hunger faced by children, families, seniors, and others here in Jackson County. In the 2012 Fiscal YEAR, ACCESS, the Community Action Agency of Jackson County, distributed emergency food boxes to 112,697 individuals in Jackson County, which is an 11 percent increase over the previous year. Thirty-three percent of those ACCESS is helping to feed are children.
All-day lift tickets are good from 9 a.m. to 4 p.m. and regularly cost $43 for those 13 and older and $33 for kids 7 to 12 (kids under 6 and seniors over 62 are always free) on the weekend. The Mt. Ashland ski area offers 23 trails in addition to chute skiing and boarding in its famous bowl. All trails are easily accessed by four chairlifts. Mt. Ashland, located eight miles off of I-5 Exit 6 south of Ashland, features ski and snowboard rentals, as well as lessons for beginners.
People can also make a secure financial donation to ACCESS online at www.accesshelps.org. Click the "Donate Now" button, and enter "Snow" in the dedication field ("on behalf of"). For each dollar donated, ACCESS can provide five meals, or approximately five pounds of food, for local residents experiencing hunger.
As the Community Action Agency of Jackson County, ACCESS has been helping Jackson County residents break the cycle of poverty since 1976. With a focus on education, ACCESS helps low-income families and seniors through economic crisis by guiding them through changes in habits to help them become self-sustaining. ACCESS currently serves Jackson County residents through 15 programs designed to address problems from one-time emergencies to longer-term issues. This institution is an equal opportunity provider.