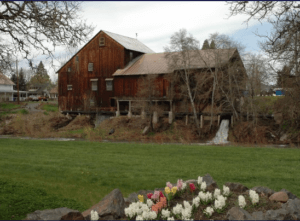 Hello, 2021!
The hope and sense of renewal that comes with a new year will be especially significant this year.
On behalf of the Eagle Point & Upper Rogue Chamber of Commerce's Board of Directors and Volunteers, I want to thank you for your continued support of the Chamber this year, more so in 2020 than ever before.
Good news and Updates for 2020!
Jay O'Neil and Vice President Bob Russell, along with all their duties involved with the Chamber, teamed up with other incredible volunteers to get the Butte Creek Mill, the gem of Eagle Point, a new business plan for reopening and fundraising for the completion of construction. The hours they spent this year to accomplish this was mind-blowing. Thank you both for your hard work and all the efforts of the Butte Creek Mill Foundation Board Members. Hat's Off!
Luke Ozelik, the owner of Eagle Market & Gas, has been generous with his time and money, with a much-needed grant to the Chamber this year. Luke loves Eagle Point and it always shows through with kindness.
Jonathan Bilden, the Chamber Secretary, keeps providing his vast knowledge and excellent writing skills. The board appreciates his many years of dedication on behalf of the Chamber and Community.
Debanne Udall, Member At Large, keeps showing her talent. The Awards Dinner Flyer was awesome.
The Board has two vacancies currently, the Treasurer and President-Elect, that need to be filled. I encourage anyone who is interested to join us in this worthwhile cause to step forward and offer their time and experience. Feel free to call me or any members of the Board of Directors to know more.
More good news! Andy Kovach, Eagle Point School District 9 Superintendent, will be our newest Member At Large to join the Chamber Board for 2021. Pretty exciting.
It has been my pleasure to be your President in 2020. Wishing everyone many blessings for the coming year.
Ashley Jensen, Chamber President
_______________________________________________________________________
For clarification to the members, please see below for the Board Members and election process for 2021. With no General Meeting being held, the board still needs to state who is intended to be ratified.
Please email [email protected] if you would like to submit a no vote for any of the Board Proposed Candidates for 2021.
President-Elect: Ashley Jensen
Vice President: Bob Russell
At-Large Andy Kovach