2nd  Saturday  Art  Experience
Location:  Main Street Down Town Eagle Point
Date:  Saturday Sept 13, 2008
Time:  11:00 a.m. to 5:00 p.m.
Contacts: Julie Kennedy 301-3397 | Sandi Erskine 826-0580 | Garland Arnaud 855-1304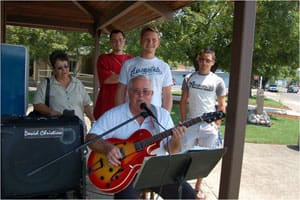 The Eagle Point Chamber of Commerce invites the public, artists, and venders to attend/participate in the 2nd Saturday Art Experience Event.
The Eagle Point Chamber of Commerce encourages and supports local and regional artists.  We are creating a venue for all types of artists to self promote as well as sell their wares; painting, drawing, photography, music, dancing, sculpture, story telling, magic, song writing, and poetry.  The experience is intended to share the different expressions of art with people of all ages.  The event is free to the public.  Money raised from booth fees will be used to support local youth programs.