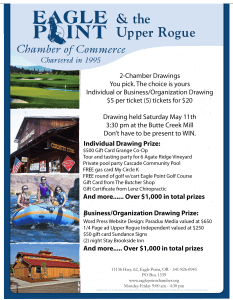 Buy your ticket to Upper Rogue Consumer or Business Adventure! Two prizes up for grabs. A consumer prize package valued at over $1,000 including a $500 gift card from the Grange Co-Op, a tour and tasting party for 6 people at Agate Ridge Vineyard, a private pool party at the Cascade Community Pool, a FREE My Circle K gas card, one FREE round of golf w/cart Eagle Point Golf Course, a Gift Card from The Butcher Shop, a Gift Certificate from Lenz Chiropractic, a gift card to the Alpacas at Lone Ranch Store AND MORE……
The second prize is for Business/Organizations and includes: FREE WordPress website design from Paradux Media Group valued at $650. You would also win 1/4 Page ad in the Upper Rogue Independent valued at $250, $50 gift card Sundance Signs, (2) night stay Brookside Inn AND MORE…..
Buy a ticket for the consumer adventure drawing or the Business/organization builder drawing. Tickets are $5 each or (5) for $20. Tickets can be purchased at the Butte Creek Mill, Upper Rogue Independent, you can also e-mail Anne Grossman at [email protected], let her know how many and for what drawing and we'll get them to you.
Get your tickets today and Good Luck!