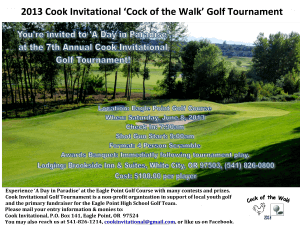 Cook Invitational Golf Tournament
Saturday, June 8th, 2013
9:00am Shotgun Start
4 Man Scramble
$100/player
Catered Meal & Awards Ceremony following with lot's of Prizes
2012 Cook Invitational Golf Tournament had 100 golfers participate
Money is donated to Eagle Point Youth Golf Programs
Experience 'A Day in Paradise' at the Eagle Point Golf Course with many contests and prizes.
Cook Invitational Golf Tournament is a non-profit organization in support of local youth golf and the primary fundraiser for the Eagle Point High School Golf Team.
Please mail your entry information & monies to:
Cook Invitational, P.O. Box 141, Eagle Point, OR 97524
You may also reach us at 541-826-1214, cookinvitational@gmail.com, or like us on Facebook.
Location: Eagle Point Golf Club 100 Eagle Point Drive, Eagle Point, Oregon 97524
Directions:
Reservations/Registration: Yes
Cost: $100 [per player $400 per team
Event Website: https://www.facebook.com/CookInvitational
Organization: Cook Golf Tournament
Contact Phone Number: (541)826-1214
Contact Email: cookinvitational@gmail.com