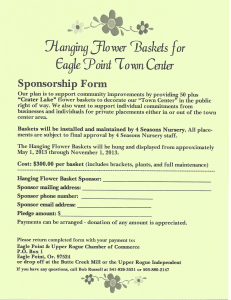 To support community improvements by providing 50 plus "Crater Lake" flower baskets to decorate our "Town Center" in the public right of way. We also want to support individual commitments from business and individuals for private placement either in or out of the town center area.
Baskets will be installed by 4 Seasons Nursery. The hanging baskets will be hung and displayed from approximately May 1st through November 1st.
Cost is $300 per basket (includes brackets, plants and full maintenance)
Click on image and you can print off a flower basket sponsorship form. They can be mailed or turned in to the Upper Rogue Independent or The Butte Creek Mill. Any and all donations are greatly appreciated.