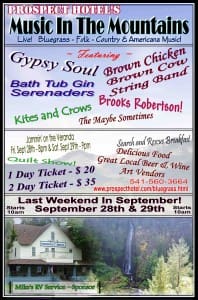 Prospect Hotel Music Festival 'Music in the Mountains'
Bluegrass, Folk, Country & Americana
The Last Weekend in September
Bands all Day
Saturday and Sunday the 28th and 29th
Breakfast at the Old Station
Music starts both days @ 10am
Music, Food, Local Wine and Beer plus Craft Booths
Superb food both days!
Karen promises MORE great food!; like Prime Rib French Dip Sandwiches, BBQ Ribs (Prime), BBQ Chicken too! Great Local Oregon Wines and Oregon Beers
Jammin' On The Veranda" of the Hotel
Friday night (8pm) and Saturday night (9pm) the Hotel Veranda is available for an
Open Jam Session – Bring your instruments and be ready to play and sing along
Everbody is welcome to join in or just sit back and enjoy!
Admission
2 Day Ticket is just $35
1 Day Ticket only $20