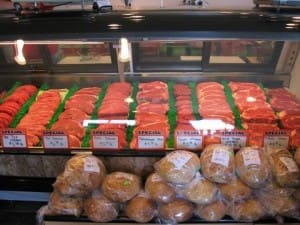 We offer a full line of specials for your Holiday meals! All our food is limited quantity, locally grown. This year, we are pleased to offer:
Fresh, locally grown, free range turkeys
Organic free range turkeys
Turkey breast – smoked OR fresh
Locally grown, free range ducks
Turducken
Old-fashioned, dry cured hams – bone in and boneless
Locally grown rack of lamb
Prime rib
Beef tenderloin (filet mignon)
Buffalo tenderloin
Pork crown roast
Choice
Prime
NEW ITEM: Dry aged 60 days
NEW ITEM: Fresh LOCAL pheasant! (only 20 available, so reserve early!)
We will begin taking Holiday orders on November 1 – all orders will be filled on a first come, first served basis. To place your order after November 1, call 541-830-3369.