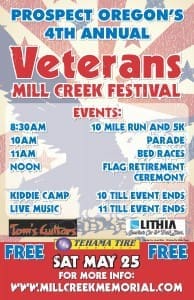 The Mill Creek Festival is a fundraiser for the foundation. This years festival will be on May 25th 2013 with the first event kicking off at 8:30am. We have a whole lot of activities going on, for example, the cougar run, a parade, bed races, and FREE kids activities! There will also be a flag retirement ceremony and a horseshoe tournament with live music playing through out the day! Also there will be food and craft booths of all kinds!
The Mill Creek Festival is a FREE event with the exceptions of the Cougar run, the bed races and the horseshoe tournament. There is a small fee to compete in these events. Profits made from this event will be going into the Mill Creek Memorial foundation to better help the needs of the veterans in Prospect Oregon!
This year we have a special surprise so come on out and show your support for the veterans of Prospect and find out what the big surprise is!!!!
As stated above there will be FREE kids activities, also known as the kiddie camp. At the kiddie camp there will be; pony rides, ring toss, fish toss, dart throw, watermelon eating contest, scavenger hunt, 3 legged races and more…
LIST OF EVENTS
7AM- COUGAR RUN
10AM- PARADE
11AM- BED RACES
12PM- FLAG RETIREMENT CEREMONY
3PM- HORSESHOE TOURNAMENT
9AM TO 4PM- THE BOOTHS WILL BE OPEN FOR BUSINESS
9AM TO 4PM- THE KIDDIE CAMP WILL BE OPEN
THE LIVE MUSIC WILL START AT 11:30AM AND GO THROUGH OUT THE DAY! BANDS AND TIMES TBA!
For questions please call Sarah at 541-531-8307 or email at [email protected]
Location: Prospect Oregon , , Oregon
Directions:
Reservations/Registration:
Cost: $
Event Website: http://millcreekmemorial.com/
Organization: Mill Creek Memorial Foundation
Contact Phone Number: (541)531-8307
Contact Email:

[email protected]