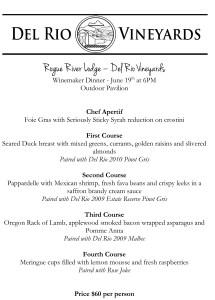 We're pleased to announce our upcoming winemaker dinner with Del Rio Vineyards on Tuesday, June 19th at 6 pm. Unlike our other winemaker dinners, the June/July/August dinners will be held on the outdoor pavilion.
We have also schedule a winemaker dinner with La Brasseur on July 31st and will have the menu finalized shortly!
Reservations are required for these winemaker dinners due to limited seating.
Let us know if you have any questions!
Lee and Anne Kimball
Rogue River Lodge