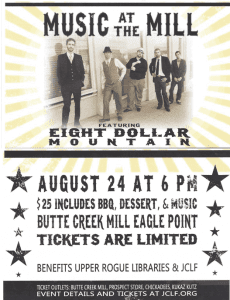 The Jackson County Library Foundation and the Friends of the Libraries of the Upper Rogue, including Eagle Point, Shady Cove, Butte Falls, Prospect and White City, are working together to raise funds for children's programming and awareness for the libraries of the Upper Rogue. Tickets for dinner, drinks and music are $25.
Join us for an evening of lively bluegrass music, fabulous BBQ from Jeffro's of Shady Cove,great raffle prizes and a really good time – Bob Pinell is the MC for the evening and CW Smith is the auctioneer. The event will be held at the Butte Creek Mill at 6PM on Saturday, August 24.
This family hoe-down supports the Jackson County Library Foundation and the libraries in the Upper Rogue. Friends of the Library groups will raffle baskets of goods, we have several great auction items, and have a really good time! All proceeds benefit children's programming in the Upper Rogue libraries. Summer Reading, story times, Babies in the Library and other programs are funded, in part, by the Library Foundation and Friends.
Sponsors and community organizations are what makes this event unique and fun for everyone. The poster was designed by Heidi Perezchica of Eagle Pint High School, the Shady Cove Fire Department donates the tables, the Eagle Point High School donates chairs, the Boys Scouts of Eagle Point and Valley Feed and Farm Supply loan canopies and help set them up, Eagle Point Women's Club, the Moose Ladies of Shady Cove, the Chamber of Commerce and so many volunteers work hard to support the library in each community of the Upper Rogue.
Tickets are $25. You can buy tickets at the Butte Creek Mill at 402 Royal Avenue in Eagle Point, Prospect Store at 500 Mill Creek Drive, Prospect, Chickadee Gifts and Garden at 22299 Highway 62, Shady Cove, Kukaz Kutz at 7551 Crater Lake Hwy, White City. You can also go to www.jclf.org, or get your tickets by calling the Foundation office at 541.774.6572.
Location: Butte Creek Mill 402 Royal Ave. N., Eagle Point, Oregon 97524
Directions:
Reservations/Registration:
Cost: $
Event Website: http://www.jclf.org/
Organization: Friends of the Library
Contact Phone Number: (541)774-6572
Contact Email: shelly@jclf.org