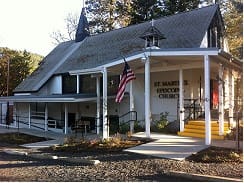 The Food Pantry at St. Martin's is proud to serve the families of Shady Cove and surrounding communities usually the last Friday of every month.
Provided will be fresh produce, dried beans, rice and oatmeal as well as other basic items when available to supplement what is currently being provided by other sources.
First come, first served.
No paperwork required!
Location: 95 Cleveland Street , Shady Cove, Oregon 97539
Directions: Hwy 62 and Cleveland Street. Just north of the Library in Shady Cove
Reservations/Registration:
Cost: $0
Event Website:
Organization: St. Martin's Episcopal Church
Contact Phone Number: (541)878-2166
Contact Email:

[email protected]